A presenter entered the class, loaded with a portable piano, made out of wood, comprising of approximately 30 or 40 keys. It was an old device, which I don't know how it functioned exactly. She had laid it down at the entrance of the classroom. During class, I heard the sound, but did not manage well to see the demonstration. While leaving the class, I passed in front of this small piano, slightly intrigued, but without a strong attraction, in respect to this musical world which was going to become mine, a few years afterwards. I was approximately 8 years old. Then, two years later, I have the memory with which my parents wished to present me to a piano teacher, who livedni99 next to us, in the 20th District of Paris. This lady was around fifty, certainly Russian, she seemed to have the accent and the character of one. I have the memory of her affectionate reception. Curiously, she used to say to me that "one plays piano, as if one said 'I love you' to his mother". I could have begun my musical journey with more rational words, which would have perhaps changed the course of my life. There are so many pupils who are traumatized by their first piano lesson, by too strict of an approach. Me, I was entitled to this phrase, which solicited the emotion that was necessary for me to express. There are words, said in a hazardous influx of sentences, that remain without wanting them to, in the memory, and shapes a life forever.

My parents had not wished to buy a piano at first. At the time, a beautiful upright piano cost approximately 10,000 francs, which represents certainly today a sum from approximately 4,000 or 5,000 euros. It is better to make sure that the child likes to play piano, before investing such a sum. Therefore, I practiced the piano on a table, by looking at the explanatory sheets of my professor. The year passed, and one day, my parents came to listen in during a lesson. We had prepared a side by side piece. I was well aware that my professor was distressed with the idea that I might make an error, especially in front of my parents, it went well. My professor seemed to indicate to my parents that I had some aptitude for music. A few weeks after, my parents brought me to a piano store in Montreuil , in the suburbs of Paris. While entering the store, I saw in the far corner a Steinway grand piano. To treat myself to one, was going to become a dream, which would germinate in my head, during 25 years. But, for the time being, I was already very happy to be able to receive an upright piano. It was a Rameau, model Chenonceau, of brilliant wood, with vintage flourishes lightly carved into it.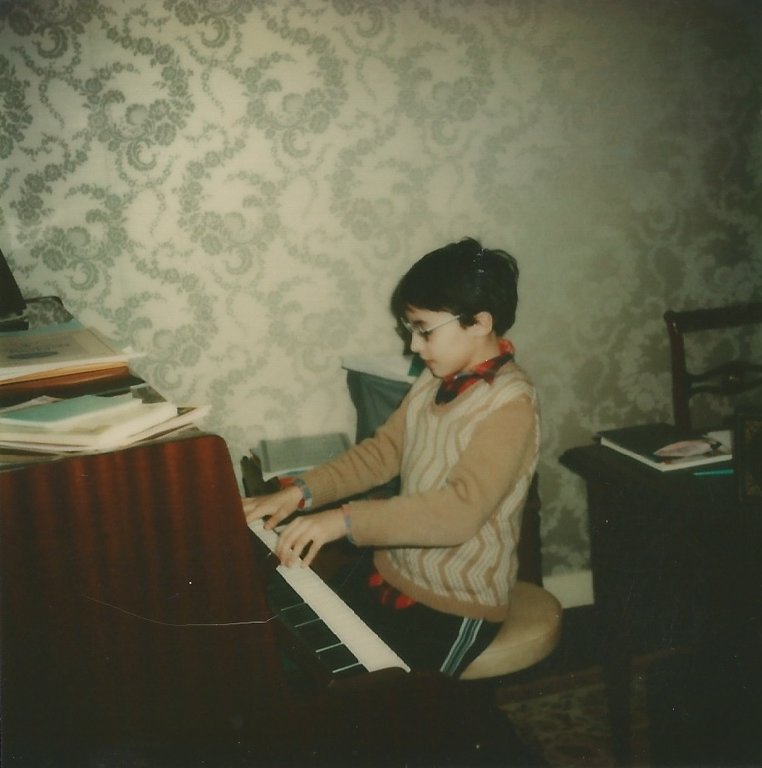 1977, with my Rameau piano
The deliveryman of the piano had told me that he would come by in the morning. I planted myself on the balcony of our apartment of the street Pelleport in Paris, to wait for the truck. Several hours passed, yet no truck on the horizon. Then, midday the truck came, the piano had arrived. With a lot of excitement, it was installed in my father's office, which was at the same time an advantage and a disadvantage. Disadvantage, because I had the feeling that practicing the piano for hours would bother my family, but the advantage was that I received useful comments on behalf of my family audience. My passion grew. My life filled with notes of music. One day, I received several discs as a gift, the discs of Chopin by Cziffra, Horowitz,… and all the associated sheet music were offered to me, they were so good, I was motivated to read the studies of Chopin, Waltz and Ballads, from a young age. These works became my bedside books. I listened, and I read, during the day or at bedtime. Musical Theory was learned mainly this way. I learned waltz 6,7,9,10 composed by Chopin, at 12 years old. I played Polonaise Militaire de Chopin in public, at 13 years old. I took lessons with other private tutors, then with the music academy, and my journey continued.

During my teenage years, I had the chance to meet two other professors, during the years which followed, one was the pupil of Aldo Ciccolini, the other of Alfred Cortot. I thus followed several influences, sometimes even contradictory. I added to this classical journey, a personal path towards film music and songs. Since my professors were not of that musical world, I decided to learn them by myself. At the beginning, I went into music stores to read the sheet music of different songs. This is how I spent my afternoons, in Paul Beuscher, a store known in the Bastille district. Not having the means to buy all the sheet music that I wanted, there did not remain for me any solution, then to read the sheet music and learn it by heart on the spot. Then, observing that the sheet music often had some gaps, I started to compose my own musical arrangements. Having grown in the years of "Johnny Hallyday", I naturally learned the integral music from Johnny, with the piano, by basing myself on what I listened to discs. Then Sardou, Polnareff, Presley,… My rhythm in piano had decreased when I entered in post-high school, but as luck should have it, at Lycée Chaptal, where I studied, there was a piano at the back of the room, which enabled me to continue practicing the piano all during boarding school. It was at this time that I experienced, that beside a piano, there is always a girl who looks on religiously whenever I played the piano. I thought for a long time that these women who immobilize their attention before a piano and subjected to the art of the pianist, fall in love with the latter, in fact, rather they are in love with the romanticism of the idea.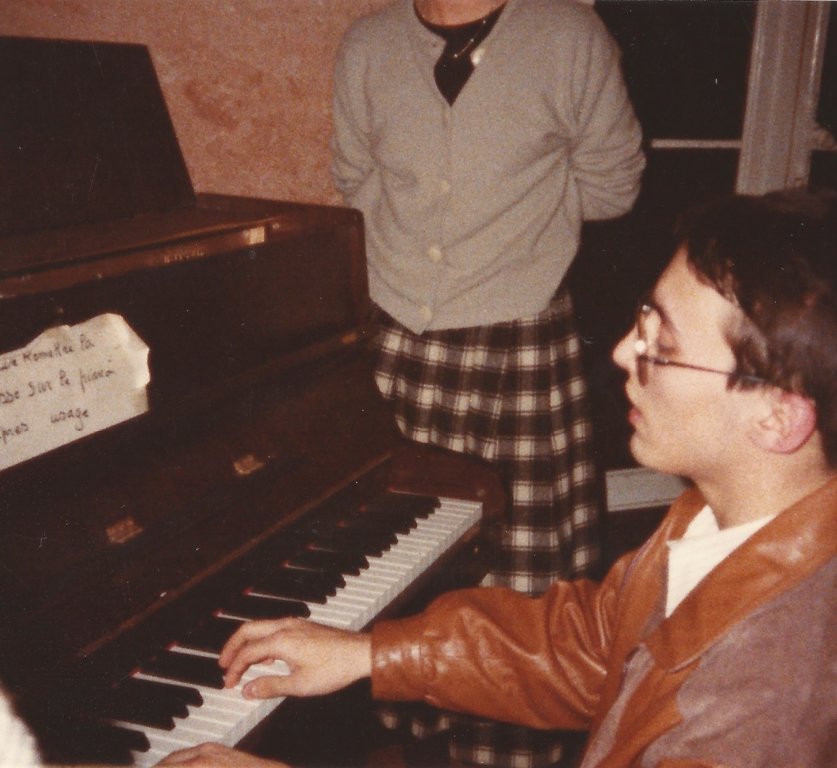 Au Lycée Chaptal, Paris
From 20 years old, while continuing my school studies, I began to play in evenings at piano-bars, in province, in Paris, in thalassotherapy centers, restaurants, and hotels,… where I was able to meet other pianists, who taught me a lot. The years passed, and my years at the Grandes Ecoles were over. I began a path as an engineer then an entrepreneur. Having somewhat fond of mathematics and data processing, I founded a software engineering company in 1996, which had significant expansion. As luck would have it, the headquarters of my company was located near la Place de la Concorde, in Paris; which enabled me to go to Crillon (historic luxury hotel located on this street) from time to time, in the late evening to accompany on the piano, the official pianist of the venue, Bernard Bosk. At that time, the bar of Crillon was red, and decorated with a bar designed by the famous sculptor, César Baldaccini, and completed with a Yamaha grand piano. Bernard gradually introduced me into the place, then entrusted the role of pianist to me one evening per week. (This decor now belongs to the past, ever since the sale of the furniture of the hotel in 2013).


Bernard, Crillon Hotel
The years passed, my computer company had developed, counting 250 computer engineers at the end of 1999. I continued my double life, with some performances of piano on the side, but in a limited way since my availability was low. As fortune would have it the Stock Market was interested in my computer company. I gradually was able to leave my computer responsibilities - which were also a passion - to return fully to the piano, and to finally find a life that was a little bit more normal. I thus had the financial possibility to buy my concert grand piano, a Steinway D, the piano that I had waited since the day when I had entered the store in Montreuil, at 10 years old. Admittedly, as a individual, such a piano is not essential, a more reasonable model would have been enough. But, I had been waiting for it for such a long time… Therefore I had the chance to pursue my piano career, that went into hibernation during the couple of years as an engineer. At 34 years of age, I began my career as a piano teacher, in France then in Luxembourg, then, by developing the possibilities of Internet, I continued my teaching in the whole world.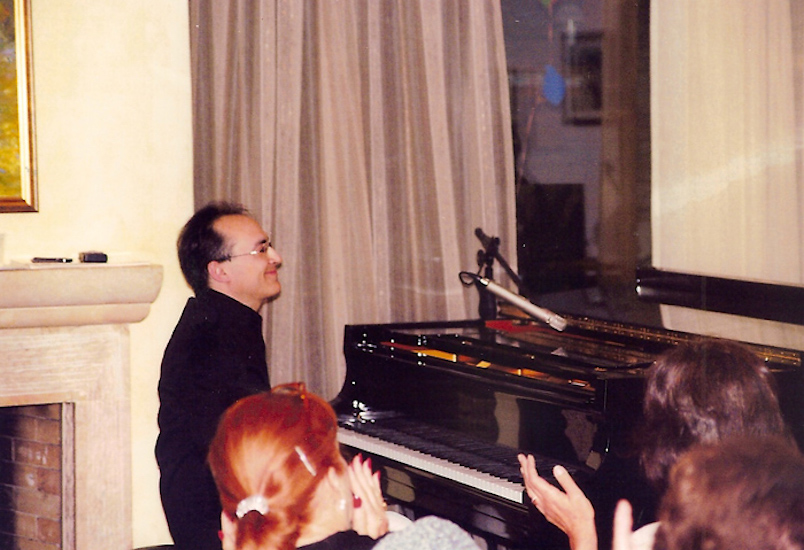 Avec mon Steinway, en concert à la maison
I was born in Paris, I grew up with an infinite affection for France. Nothing indicated to me that I would one day live somewhere else. My mother was of French origins, since the beginning of time , my father was French, coming from a Jewish family from Tunisia, and beforehand certainly from Morocco. I did not have any attraction with regard to any country other than France. From the history with which my father's family knew, I experience a certain connection with the Jewish people, as this testimony that I filmed recounts:
This history was of course present in my life, but did not constitute a particular motivation to settle one day in Israel. But, with the opportunities during vacations, we learned to know this country. Then we liked the culture, the sites, the people, the local life, and we realized that the reality was well opposite to the images propagated by the media presenting this country like a country in war. We thus settled in Israel at the beginning of 2006. From the fact of living elsewhere than in France, I created piano lessons through Internet, by integrating the necessary technologies.